PROFESSIONAL IMPROVEMENT PROGRAM
Description of the Professional Improvement Program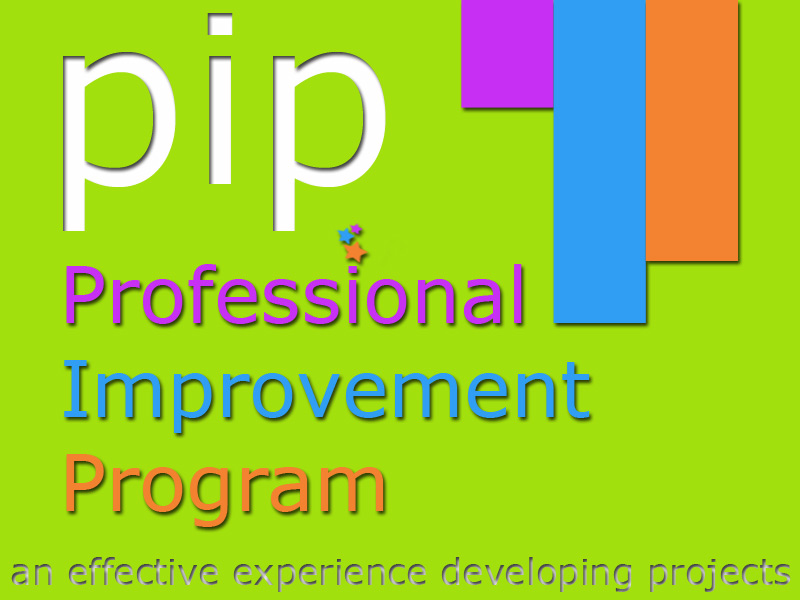 European Projects Association introduced its Professional Improvement Program in 2009. The aim of the program is to offer a selected number of students and graduated employees the opportunity to improve their knowledge, integrating them within the International Staff at EPA Headquarters in Brussels, its Territorial Contact Points (TCPs) and partner organisations worldwide. The PIP Program is open not only to students, graduates and young employees but also to university and organization who would like to become our partner as a sending or hosting organization. For the organization member and TCPs, EPA provide the opportunity to host EPA Young Professional that will give an add value by implementing their knowledge through the use of EPA methodology.
EPA is cooperating with several Universities in order to develop a high quality programme in conformity with the Bologna Process of the European Higher Education Area. EPA has already signed Agreements with the Bologna University, the Florence University, the Padova University, the Trieste University, the Molise University, the Ca' Foscari-Venice University and the European College of Parma. Furthermore, EPA collaborates also with the Bocconi University, the Pula University, the Teramo University, the American College of Management and Technology of Dubrovnik, the Rijeka University and the Zadar University. Students from several Universities around Europe are also attending the Professional Improvement Program combining it with other European programs for young people abroad such as Leonardo, Erasmus, European Voluntary Service, as well as the Eurodyssey program.
Some Universities certify the internship within the European Projects Association up to 60 ECTS, depending on the length of the training period (usually from three to seven months).
"In the decade up to 2020 European higher education has a vital contribution to make in realising a Europe of knowledge that is highly creative and innovative... Europe can only succeed in this endeavour if it maximises the talents and capacities of all its citizens and fully engages in lifelong learning as well as in widening participation in higher education."
Ministers responsible for Higher Education in the countries participating in the Bologna Process,
Leuven/Louvain-la-Neuve Communiqué, April 2009
PIP's objectives:
ato provide a framework in which graduate and post-graduate students and new employees from different academic backgrounds may be assigned to EPA Offices where their educational experience can be enhanced through practical work assignments.
bto provide EPA offices with the assistance of highly qualified students specialized in various professional fields.
cto provide interns with the opportunity to learn from the EPA community and get a better understanding and a more balanced view of the Organisation itself.
dto increase the understanding of EPA abroad through the sharing of the interns' direct experiences achieved through the Professional Improvement Program.
What does EPA offer?
Interns will benefit by experiencing an international organisation from the inside while enriching their Curriculum Vitae. The call for applications is open the whole year. Internships will, generally, last 6 months and they are offered in the following areas:
Administration
Information
Communication
Education
Project Development
Consulting
All the participants of the PIP will undergo an induction course organised by the Tutor, covering information about the organisation, procedures and security as well as advising on how to have a successful Professional Improvement Program. The PIP participants will be able to participate in all EPA activities: this will give them a chance to meet with personnel working in different sectors and on different levels of the organization. Visits to other organizations, when possible, will be organized at PIP participants request. The EPA Tutor meets the PIP participants on a regular basis to discuss different topics of interest and make sure they enjoy their permanence at EPA.
Eligibility Criteria
Are eliglible students, recent graduates and young employees with:
Age: over 21 at the time of starting the programme
Studies: at least 3 years of university studies or equivalent. However, depending on the job description, candidates may be required to have obtained a specific degree. If you want to create an agreement Convention between your University and the European Projects Association, you need to be graduated from no more than 18 months, as you need to still have your "student status".
Languages: working knowledge of English; desirable proficiency in one of the languages of the countries where EPA National contact Points are established.
---
Application Instructions
In order to submit your candidature you nedd to submit eletronically your application form. If you are interested in doing a PIP at EPA, fill the application form and ADD YOUR CV and COVER LETTER
If you are an University interested in sending your students or graduates to EPA; an organization intersted in sending graduates or young employees; an EPA TCP or an EPA Organization Member interested in hosting EPA Young Professionals please apply below
---
Other Information
Leaving the Organisation
At the end of the Professional Improvement Program, the employing office will provide the PIP participant with a letter of reference, evaluating his/her work. A copy of the letter will be kept in the PIP participant's file for future reference. PIP participants also receive a formal certificate for their experience, provided by EPA. The Program does not end with the internship: the PIPs will maintain their account on My-Europe.eu and they can contiune to follow the projects and the Working Groups they are involved in.


Remuneration
There is not remuneration for the attendance of the Professional Improvement Program. If you hold a grant or a scholarship for your PIP at EPA you need to verify if your University or an organziation presents in your territory have signed an agreement with EPA and if you are eligible in their admission criteria.
Travel
PIP participants will not be reimbursed for their travel expenses on taking up duty or leaving the service. In exceptional cases only, the employing office in which the PIP participant has been placed may grant authorisation for PIP participant to be sent on mission, on the condition that the mission is of a technical nature and not a representative one. The expenses will be taken on by the Divisions which request the mission. The Managing Board should always be informed before a PIP participant is sent on mission and should receive a copy of the signed mission order.
Leave
PIP participants will keep the same hours of work and have the same official public holidays as other EPA staff members. After two months of service PIP participants shall be entitled to leave (including sick leave) at the rate of 2 working days for every month of service completed. Any accumulated leave not taken during the contractual period will not be considered. In case of illness, interns must notify their division immediately, and if absent for more than two days, must provide the organisation with a medical certificate. Unauthorized absences will be charged against such entitlement and the leave will be reduced accordingly.
! Obligations and Responsibilities
PIP participants are required to exercise the utmost discretion regarding facts and information that comes to their knowledge during their PIP. They remain covered by this obligation after the PIP. The Organisation reserves the right to terminate the PIP and take action against a PIP participant who does not respect this obligation. PIP participants are not permitted to draw files from registries. The Head of Division/Office will assess the need for access to classified information in both paper and electronic form.
Insurance
PIP participants are responsible for their own health and accident insurance. PIP participants will be required on joining to provide evidence that they have adequate insurance coverage.
Administrative Formalities for National Authorities
PIP participants will be responsible individually for fulfilling all administrative formalities required by the host nation, including registration in their local authority, during their residence in the Country. The Tutor assigned will assist the interns by providing all necessary information and documents.
In Belgium: Federal Public Service of the Interior, Chaussée d'Anvers 59B, 1000 Brussels (phone: +32 2 206 15 99, http://www.dofi.fgov.be or http://diplobel.fgov.be or www.diplomatie.be), or Belgian Embassies and Consulates outside Belgium
Experiences and career opportunities
The Professional Improvement Program is not directly linked to recruitment. However, PIP partecipants may be recruited after completing their program, as long as the conditions and rules established for employment in the category of staff in which she/he will be recruited have been fully respected and applied. Futhermore in order to assure the continuty from training to marketplace PIPs could be hosted both by EPA TCPs and by EPA PATNERS.
Contact
If you need adittional information, please fill in the HELP form
---